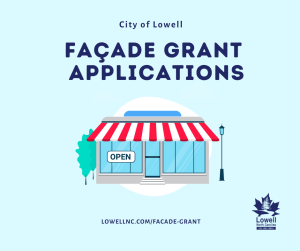 About the Program
The City of Lowell has adopted as a primary goal the improvement of the appearance and livability of Lowell. As part of that effort, the City of Lowell has developed the Façade Improvement Standards to provide direction to businesses and commercial property owners in maintaining and improving the appearance of building facades in the City of Lowell.
Program Features
FY 2023-2024 Grant Cycle Deadline:

1st grant cycle deadline - September 30th, 2023
2nd grant cycle deadline - February 28, 2024 (if funds are still available after the first deadline)

Qualifying projects are eligible for a grant at a minimum of $500 and a maximum of $2,500 per façade, on a 50/50 matching, reimbursement basis
Grant awards and amounts are at the discretion of the City Council
The grant amount shall be determined at the time of application approval and paid when the project is completed
Ineligible projects include:

Improvements made prior to grant approval
Interior rehabilitation/improvements
Construction of false fronts
Blocking up of windows or installing storm/vinyl windows and doors
Demolition of historic features
Roof and chimney repair and construction of mansard roof
Materials that are inappropriate to the original structure or nearby structures
Please refer to the Façade Improvements Standards and Grant Program document for all guidelines, eligible projects, and the decision-making process.
How to Apply
Apply online or download the application from the documents section below. Paper forms are also available at City Hall and can be picked up Monday-Friday, 8:30am-5:00pm.