One week before Thanksgiving each year! Food, games, and fun!
Thanksgiving Senior Lunch 2022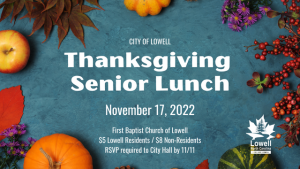 City of Lowell Thanksgiving Senior Lunch
Thursday, November 17 at 12pm
First Baptist Church of Lowell
Dine-in or to-go options
To-Go: Pick-up 11:30am-11:50am
Dine-in: 12pm
Pharr YMCA will be providing a free chair yoga class. We will also play BINGO with a chance to win prizes!
RSVP required by 11/11 by calling Lowell City Hall at 704-824-3518, option 1. You can also register online using the form below.