Bulk Item Pickup Schedule
The City of Lowell collects bulk items and excess trash on a quarterly schedule in the months of January, April, July, and October.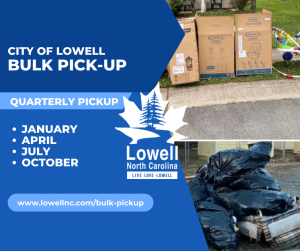 Remaining 2022 Pick-Up Dates
October 3-5

Monday, October 3 - Households that have a Monday trash pick-up
Tuesday, October 4 - Households that have a Tuesday trash pick-up
Wednesday, October 5 - Households that have a Wednesday trash pick-up
Bulk Item Pickup Policy
Lowell provides quarterly curbside collection at residential homes of items that are too large, heavy or bulky to fit in the City garbage cart for normal garbage pickup. Please keep in mind this program is intended for pick-up of customary residential items and is not intended for removal of commercial/contractor items or remnant items from home renovation projects. There will be no brush collection during Bulk Pickup Week.
Bulk is collected by the City 4 times a year during the months of January, April, July, and October.
Click here for the 2022 schedule of collecting bulk items.
Bulk items may be placed at the curb any time after 5 p.m. the day before your normal trash pickup day so long as they are out by 6:30 a.m. on your pickup day. Items that are placed at the curb outside of this time frame will be subject to a solid waste fine.
Please do not
Please DO NOT mix these items with limbs, leaves, or grass.
Please DO NOT place any items in the street.
Please DO NOT obstruct the sidewalk with items.
Please DO NOT place these items on top of water meters or utility boxes.
What we accept:
Place items behind the curb and away from trees, parked vehicles, mailboxes or other obstructions.
Furniture
The City of Lowell will collect chairs, beds, mattresses and springs, sofas, bedroom/household furniture, and patio furniture.
Other Items
Swing sets, grills, lawn mowers (drained of gas / oil), bikes, bagged trash, glass except for windows. All glass must be taped with the shape of a X.
E-Waste
Electronic waste is anything with a computer circuit board (cell phones, computers, radios, television, etc.). E-waste can be taken to all of the Gaston County Convenience/Recycling Centers. Click here for a list of the locations. For more information, please call the Gaston County Recycling Hotline at (704) 922-7729.
Debris Resulting From Construction, Demolition or Repair
The City does not collect debris resulting from construction, demolition, or home repair such as: toilets, sinks, bathtubs, roof shingles, carpet, bricks, or lumber. It shall be the duty of the property owner or contractor to dispose of debris resulting from the construction, remodeling, demolition, or repair of buildings. No material from land clearing will be picked up by the City.
We do not accept:
City does not pick up automobile parts, tires, batteries, paints and liquids, or pool chemicals. This material must be taken to the Gaston County Landfill located at 3155 Philadelphia Church Rd Dallas, NC 28034.
Appliances
The City of Lowell does not collect appliances such as stoves, ovens, refrigerators, freezers, dishwashers, washers, dryers, air conditioners, trash compactors, and hot water heaters. North Carolina State Law now prohibits the dumping of appliances in landfills. This law also requires that businesses who sell appliances charge an appliance disposal fee to cover the cost of the appliance. Citizens are encouraged to allow the business selling the new appliance to dispose of the old one.
Hazardous or toxic waste
The City of Lowell does not collect any hazardous or toxic waste. All hazardous waste must be taken to the Gaston County Landfill located at 3155 Philadelphia Church Rd Dallas, NC 28034.
Additional information
Loaner truck
As a reminder, if you have more than a half pick-up truck load of debris that needs to be disposed of, you can request the use of the City's loaner dump truck.
Contact
If you have any questions about your pick-up items or acceptable bulk waste quantities, please call 704-824-3518, Option #1.