Music in the Park – Garrett Huffman
---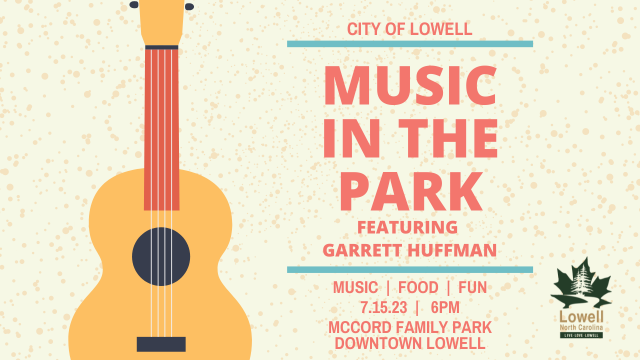 Join us for Music in the Park at the new McCord Family Park in downtown Lowell with live music by Garrett Huffman! We'll also have an artisan market set up along with food and drink options. Stop by our City of Lowell tent where Parks and Recreation staff will be handing out free freeze pops in celebration of National Parks and Recreation month! Bring your chairs and beach blankets!
About the musician:
Garrett Huffman, a Gastonia resident, is a singer/songwriter/musician who taught himself to play guitar during the pandemic. He quickly gained a following throughout North and South Carolina and has performed over 250 events to date with multiple others booked throughout 2023. He is a signed artist with Iron Gate Records in Nashville, Tennessee and also has an endorsement deal with Willow Creek Guitars in Indianapolis, Indiana. He has recently been nominated for the 2023 Carolina Country Music Awards Entertainer of the Year for North and South Carolina. His music can be found on all streaming platforms, and has been played on multiple radio stations in the United States and overseas. For more information you can find him online on Facebook and Instagram at Garrett Huffman Music or on his website at www.garretthuffman.com.
This event is sponsored in part by CaroMont Health.