6:00pm - 8:00pm
Harold Rankin Park
519 Park Circle, Lowell, North Carolina 28098
---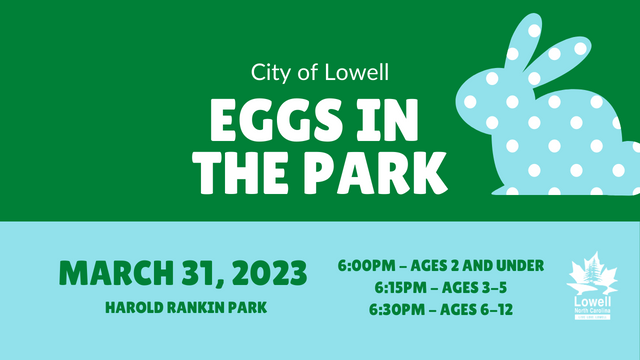 6,000! That's the number of eggs that we will have at Eggs in the Park on Friday, March 31 at Harold Rankin Park!
Egg hunts will be divided into three age groups:
6:00 pm – ages 2 and under
6:15pm – ages 3-5
6:30pm – ages 6-12
Eggs are pre-filled with small toys, erasers, bracelets, or stickers. Each age group will also have two golden eggs that can be redeemed for a prize under the picnic shelter.
For ages 3 and under – please note that the toys are rated for ages 3 and up. If your child only found eggs with small toys, please feel free bring those small toys to the picnic shelter and we will be glad to exchange them for stickers.
If you'd like to recycle your kids eggs after the egg hunt, we will have a container located under the picnic shelter.