November 3, 2023
PRESS RELEASE
LOWELL, N.C. – City of Lowell staff received a complaint about a property owner closing a portion of High Street in between E. First Street and E. Second Street by installing a gate across the pavement.
City staff spoke with the property owner that installed the gate. City staff then, retrieved documents which showed that on Tuesday, August 14, 2001, a public hearing was held to close High Street due to safety concerns with children crossing the street between the two church buildings located on both sides of High Street. No public comments were made and City Council unanimously approved to close High Street. A resolution was signed by the then, Mayor and attested by the then, City Clerk. The documents were then recorded with the Gaston County Courthouse on October 4, 2001. The former High Street then became a private driveway belonging to the property owners on that street.
The City has spoken with the Board of Elections, and they do not foresee any issues with voters obtaining access to the polling location that will be located at the Presbyterian Church of Lowell. The City has notified the Gaston County School System regarding bus routes. The City is also working with the property owners to install signage.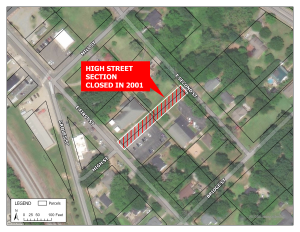 Approved City Council Minutes August 14 2001
City Attorney Letter To Presbyterian Church October 5 2001
Official Resolution To Close High Street August 14 2001
Contact: Scott Attaway, City Manager, 704-824-3518; sattaway@lowellnc.com
###